Nadeene Horak, A fused glass artist
Owner of Say it With Glass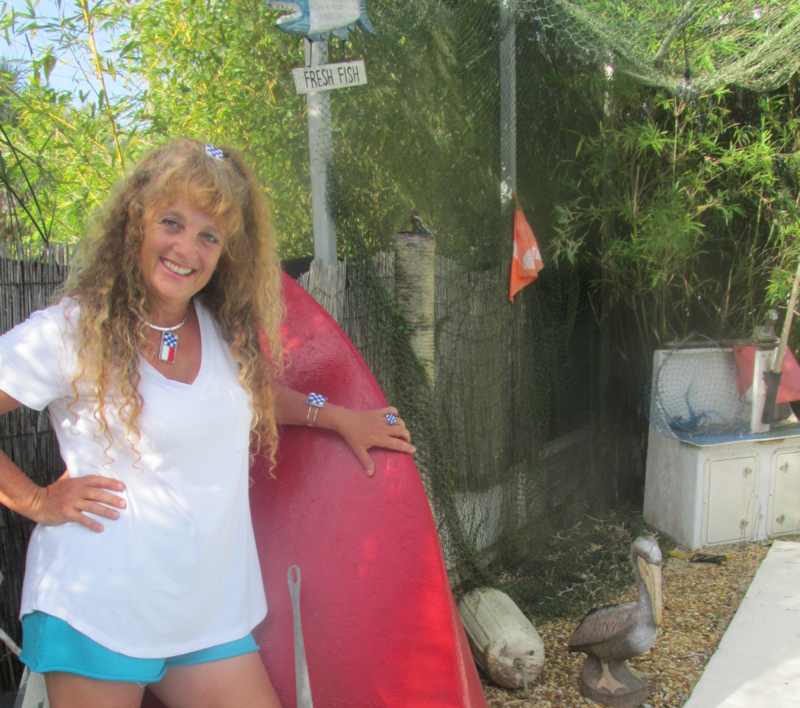 Playing marbles, making rainbows with prisms, and collecting bottles and sea glass are all vivid memories of my childhood. I still have sea glass from my teenage years romping around Singer Island and Palm Beach. Back then, I knew that someday I was going to learn to make cool stained glass art. It took many years for me to finally pursue it. The years of delay were spent in my home state of sunny South Florida where I grew up, went to school, and spent too much time at the beach and lived a barefoot Florida lifestyle. At 20 years old, I was living aboard a 50-foot Chris Craft Constellation on the New River in Fort Lauderdale with my husband. During those 32 years of marriage, if we had not worked on a boat, we would have bought one to live aboard before we resold it and started over again. Our life consisted of boats, water, fishing, and beaches.
Fast forward to today and I'm doing the same thing in a whole new way! Guess what I did when I became a widow in 2008? I signed up for those stained glass classes that I knew I would do someday. I have been working with glass ever since. I still buy and sell boats, and now I hold a Florida Yacht Brokers License too. Boats and glass...what better way to combine my two interests? International Maritime Signal Flags have always fascinated me. I would see them in marinas, displayed on nautical items or boats, and I always tried to figure out what the flags spelled. I thought it was a whole new way of communicating with secret colorful symbols. How cool! I hope you also enjoy all the items I have created at Say It With Glass!
So what exactly are you buying here? Let me explain…
If you love nautical art and want a colorful accent or decor in your home, business, boat, or yacht, or if you want to wear signal flags as jewelry, you have come to the right store! What is fused glass? It is made of several pieces of glass that have been first cut to size and then placed in a kiln or oven. Heated at over 1400 degrees, the glass melts and "fuses" together! Want to spell your name? Initials? A message? All 26 letters of our alphabet and all 10 digits of numbers are represented by an International Code of Signals, also known as Maritime Signal Flags. Still in use today, these flags were used in ancient times aboard ships so that people could communicate with each other. Aside from the alphabetical letter that is represented, some individual flags have meanings of their own.
For example, the flag that represents the letter "T" means "Keep clear of me." Send that one to the person you don't want around anymore. The letter "V" means "I require assistance." Send that to the person you do want around! The letter "X" means "Stop carrying out your intentions and watch for my signals." Put that one at the head of your bed. The letter "Z" means "I require a tug." Well, use your imagination! These cute and colorful flags can be used anywhere! Come up with something clever. Want to spell that four-letter word and turn it into four coasters? See where I'm going with all this?
You can also wear signal flags and dress yourself up by clicking on the link for our signal flag jewelry for the Captain and the Mate. We also have nautical wearable art for men and women. If you love boats and a nautical lifestyle, you are going to LOVE this jewelry collection! Check out all the signal flag stuff for the galley too! Galley = Kitchen for you landlubbers!
For all the plaques and nameplates, the signal flag squares are three-inch glass tiles that can be bought just as you see them and used in any way you wish. If you want to display them on wood, you will also need to buy a wood display depending on where or how you want to show them off. Do you want a nameplate for your desk? Buy the wood rack. It is made just like the letter tray from the game Scrabble that held all those letter tiles when you were a kid. Your three-inch fused glass tiles will slide right in and be instantly ready to sit on your desk or shelf. Would you rather hang it on your wall? The wood plaque would be your choice. You decide if you want to display it vertically or horizontally, and order it accordingly. I will permanently glue each tile to the wood plaque for you. I then ship the finished item and you are ready to hang it! Click on "Display Your Signal Flag Art" under the "Shop" menu to see various options for displaying your signal flags. Don't want wood? Some names, depending on how many letters, can all be fused and be hung vertically or horizontally without the wood. These, too, are "ready to hang" because they contain a small metal hook already fused into the glass to create an anchor point for hanging. Simple and colorful art! Display it or wear it. Now you know what I know, so let's go shopping!
(Free shipping on orders over $50 that ship to the lower 48 states. Under $50? A flat $6.00 shipping and handling fee will be added to your total when you check out. See more info by clicking on "Terms" at the bottom of each page)